Photo Credit by Michael Anthony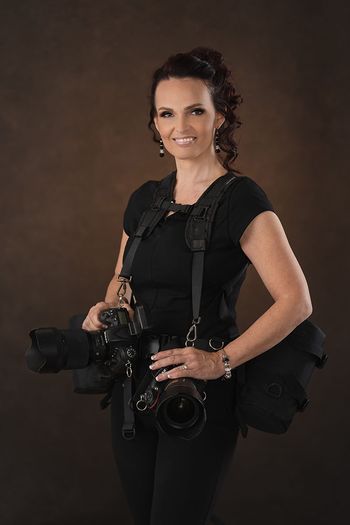 Nadege Barnes
Born in the South of France in 1975, Nadège Barnes became passionate about photography in High School where she joined the B&W photography club. Later in College, she took photography courses, but never really thought she could make a living taking photographs.
In 2002, during a visit to Los Angeles, an actor asked Nadège to take photographs of him after an interview she was doing for a magazine. The photographs were taken in his backyard with a simple Pentax SRL Camera. When Nadège gave a sample copy to the actor, he was amazed by the quality of her work and recommended her for other jobs. The Magazine (Spirit) published her photographs right away and offered her more opportunities to photograph. In September she was invited to an exclusive event with Ton cruise & Steven Spielberg for the premiere of Minority Report in Paris and in June 2003, she had an exclusive photo session with James Marsters (Buffy the Vampire Slayer) and one of the photographs made the cover of Spirit Magazine.
Nadege Barnes was officially a professional Celebrity Photographer and was doing many Red carpet events and professional opportunities within the months following.
Unfortunately, in 2004 the Spirit magazine was sold to a different company and Nadege was not offered an opportunity to stay on with the new company. She decided to travel to the USA for a while. It was there that she met her husband to be, Doug. She then moved to California where she was married and began a family.
At the end of 2008, she wondered what she could do to work from home. She immediately thought about her passion for photography. After a few research, she realized that doing Wedding Photography would be the best option to start a business. Her husband loved the idea and surprised her by buying her a brand new D-SRL D90 Nikon camera. 1 month later, she signed her first customer for a wedding at the Mission Inn of Riverside.
Since then, Nadege has booked over three hundreds of weddings and is scheduled to appear in many premiers bridal shows each year while celebrating 10 years of a successful business.
Nadege and Doug have a beautiful son named Logan and a Devon Rex Cat named Tyler. She loves Chocolate and goes to vacation in the Bahamas with her Husband that recently opened an Expedia Cruise Ship Center Franchise.