THE ULTIMATE POSING GUIDE
Why Close to 40% of Brides Have REGRETS
I remember during my last bridal show, a bride to be came with her sister. But this one was different, she had a mission. She kept on saying "sis, don't make the same mistake that I did on my wedding. you need a good photographer!"
Her comment poked my curiosity. So, I asked her if she could tell me what happen.
"You know… I honestly didn't know at the time… but really thinking about it, I just didn't like the way our photographer posed me for the portraits. I just don't think I look very flattering or beautiful in those poses at all."
I couldn't even imagine how disappointed she was.
"I want my sister to hire someone that is going to know how to pose her and give her great image, So, this time, are really looking at every details!"
To have that one day in your life in the most beautiful dress, but to not be happy with the way you are posed in the portraits.
This lady really reinforced me that what I was doing was important. The way I was posing my couple to make them feel so good. She made my day
Sadly, a lot of photographers don't understand that it's not just about the the beautiful compositions, backdrops, and even moments. Though those are all important, it is an absolute necessity to be a master in the art of posing to ensure the bride and the groom look absolutely dazzling on the best day of their life.
And yes, here sister hired us.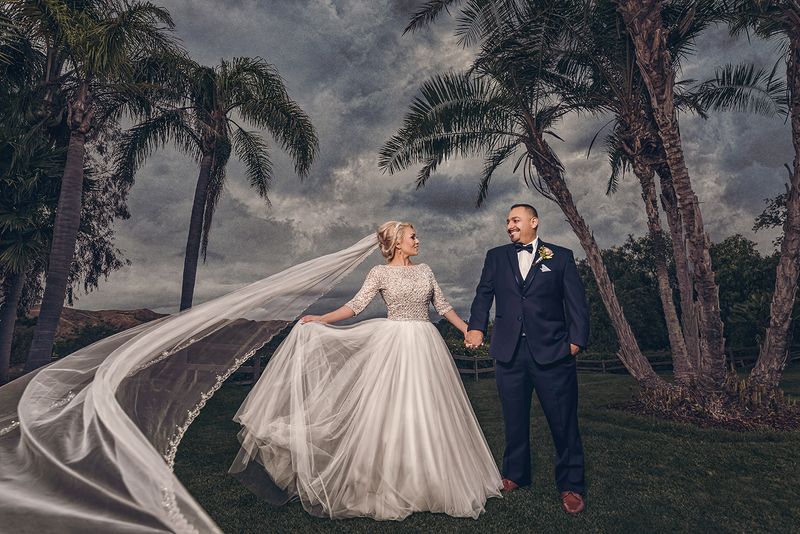 Although, it was normal for us to know how to pose our clients because I learned photography for years and years, I realized very quickly that it was not a common practice among photographers.
One day, I came across a study that mentioned that close to 40% of brides had regrets when it came to their wedding photos.
"Wow!" I thought to myself. I couldn't believe that percentage was so high! So, I started digging deeper to really see the reasons why these brides we're unhappy, and this is what I found…
1. "Our photographer got drunk, and you can see the photos in the gallery getting blurrier and blurrier as you scroll through."
2. "He just really didn't seem to know what he was doing! He didn't guide us during the portrait session and we we're just standing there awkwardly!"
3. "She only captured moments of my husband and I, but not of our close friends and loved ones. That was really disappointing."
4. "We received no direction what so ever. so much for the photo journalistic style! what a mistake!"
5. " I could see so many things in the background of our pictures and we look like 2 ridiculous statues"
And that was just the tip of the iceberg…
I take pride in my work, and after seeing almost half of brides out their being extremely unhappy with the results they were getting from other so called professional photographers, I couldn't help but be extremely proud of what every single one of my couples have said about me.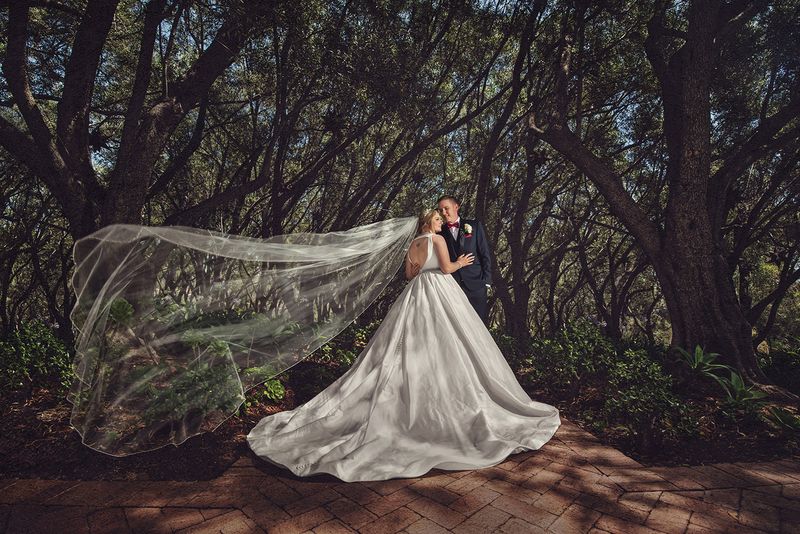 Yessenia & Julio for example, who got married on May 26th, 2019
"Last year I was freaking out because we cut ties with the initial photographer I had chosen he was too demanding and was charging for every little thing. At a Bridal show in Ontario, I met Nadege Barnes husband as soon as he started showing me albums of her work I was intrigued, and the fact that I found out Nadege loves Disney was a plus, my wedding theme was Beauty and the Beast. As soon as we met and the image that she had for our pictures was exactly what we were looking for. Our engagement session was at Disneyland, and I can't even explain how amazing those pictures came out I was living my fairy tale. Nadege new exactly where to go, and guide us through everything she was nothing but amazing. The day of our wedding she was there on time, and she started working right away Nadege took the most beautiful pictures at the hotel, at the Church, and the Walt Disney Concert hall. We are so in love with our album words can't even describe how beautiful and perfect it is. All I can say is that our them Beauty and the beast is all over our album from the moment you open it all the way to the end. I couldn't have asked for anything else so amazing so beautiful and just professional. I highly recommend Nadege she pictures everything just by telling her what you are looking for she took care of us and I have no regrets she's an amazing photographer and a great person, and you will fall in love with her work. Thank you, Nadege!!!!"
We even have a behind the scene of their engagement session. Wanna see?
so, here, I'm going to share with you as much value in my expertise in posing wedding couples so you can ensure you look your best and have no regrets for your special day.
Ok, I'm sure you won't remember everything and this is why I'll be there to guide throughout your day no matter what because let's talk about s few elements.
Do you want to know what people, who do not like to have their pictures taken, always request and is their BIGGEST mistake? Candid photography also called photojournalism.
Here is why. Because in your everyday moment, we talk and move, and I don't know if you ever had your pictures taken while your speak but we usually do very silly faces and you really DO NOT want to see those. On top of that, most people do not even know what to do with their posture. So, technically, you need to be posed to look better, but not all the time. Sure there are moments to use photojournalism like ,the ceremony, first look, speeches and dances. But for everything else, if you really do not know what to do, you are going to need someone that can guide you.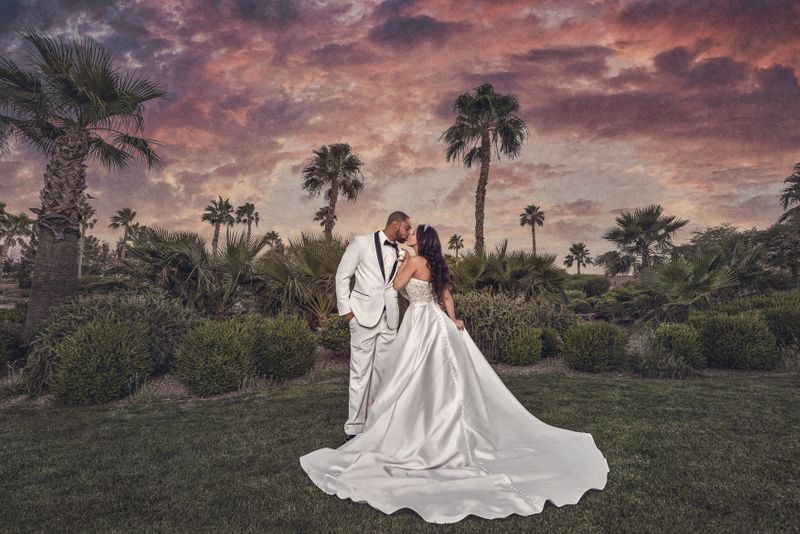 Hands and arms Posing
This is certainly the most important details about posing because, let's face it, most people to not know what to do with their hands and arm. So the chance is that you will look awkward if nobody point it out.
it's the photographers job to not just capture a moment but to learn how to set up a good body position to tell a story for our brides and grooms.
But here a few pointers so you'll know what to do on your wedding day.
Did you ever noticed that men do not know what to do with their arm? they always have then straight down on their side and it is very boring to look. but If you ask the groom to put his hands in his pocket or to hold his bride, it starts to feel more REAL and unposed.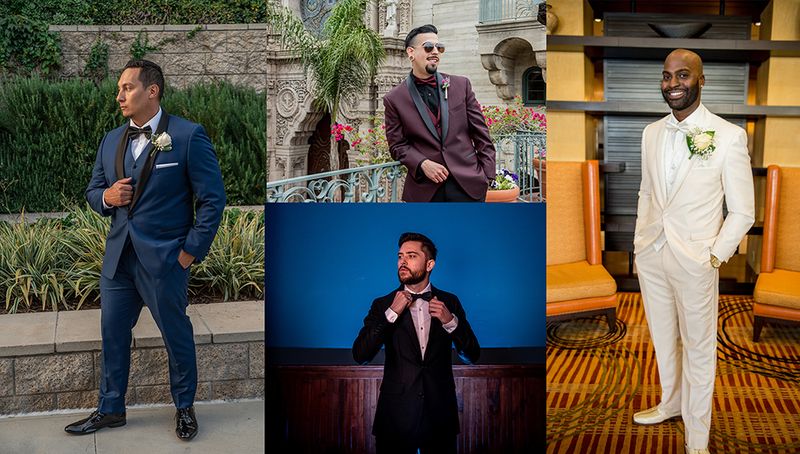 With women, it can be a little bit easier because they usually have something to do with their hands such as holding the dress or the bouquet. For brides, you want to make sure that their arms are always bent and that their hands are elegant and curvy. hands posing is one of the most difficult thing to learn for a photographer. It is truly an art.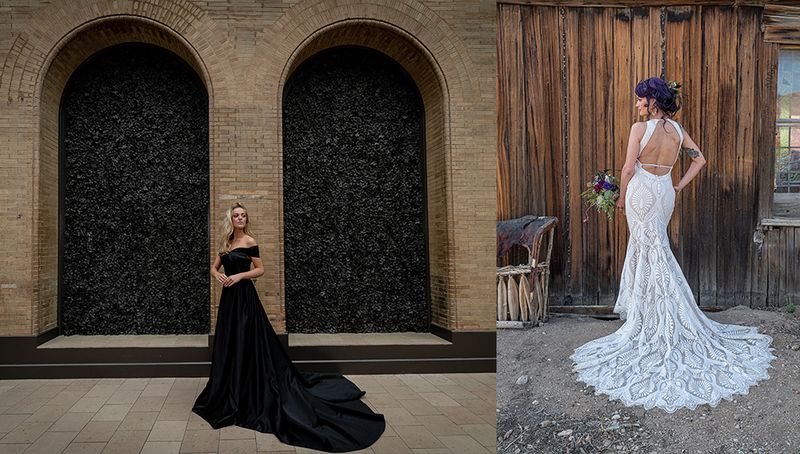 The hands and arms can be used to lead attention to the right places. With her other arm, we could either make it out of sight behind her or where it is across her waste. Those poses look very natural.
When you hold something it naturally gives your hands something to do, but also brings attention to that object. Here I have Andi holding her dress which also is a beautiful way to lead attention and show it off.
In this pose I also had her do the cigarette pose which for this particular case worked out beautifully. If there is nothing to hold and I see a pose may look better with hands and arms NOT straight down, you can place one or two hands at the waist.
Having your elbow at more than a 90 degree angle gives a more elegant pose than having it at 90 degrees or more.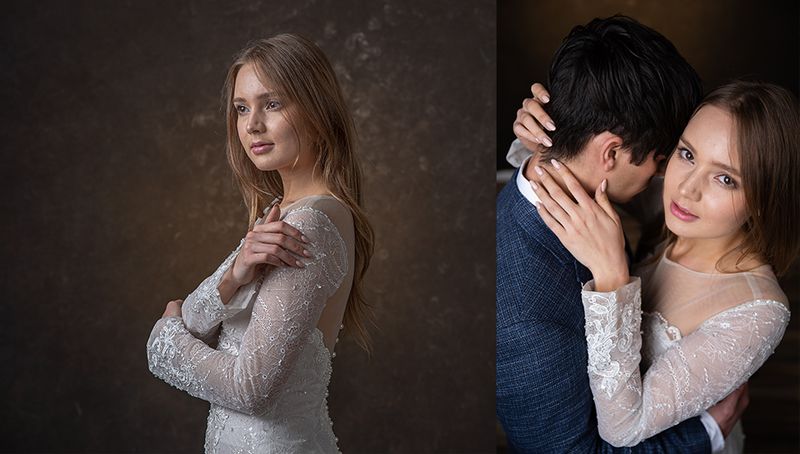 Shoulders always at an angle
This is true for 90% of all the poses we do, especially with women. Having your shoulders on an angle away from the camera not only slim you down but take away the awkwardness of your pose. I'm sure some of you had their portrait (head shot) taken before and you certainly remember the photographer asking you to turn your shoulder away from the camera.
Notice on the picture below that she has her shoulders tilted on an angle. this give more elegant curve but also look more natural as she is looking at him. Also, our gentleman is also on an angle and has his shoulders titled too.
Of course, there is always an exception. The secret service pose is one of them. having all the groomsmen looking like body guards on a V formation, This work better on men because it will make them look stronger but it is not good on women .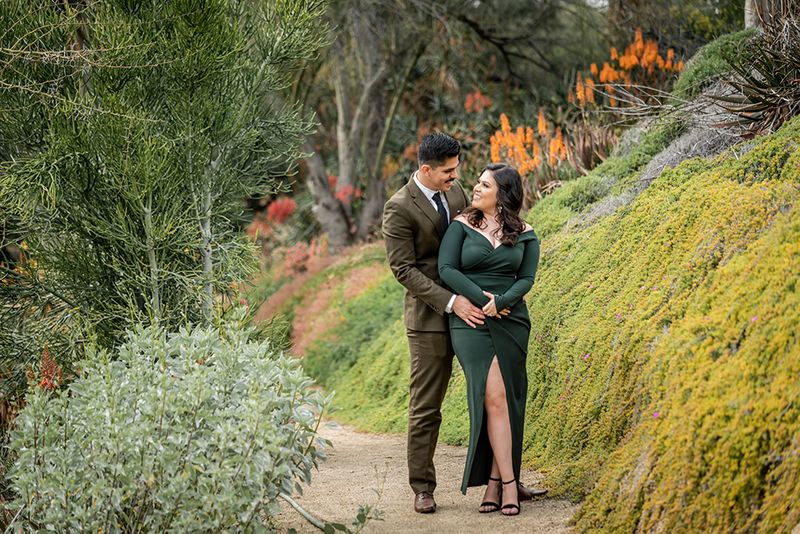 Movements
One of the easiest ways to create a natural pose without being posed is to move such as walking away or toward the camera. But, do not look at the floor. Look at each other and have a laugh, just be yourself and let the photographer create the magic!
The key is that a good photographer that have been trained in posing with able to use candid and posed moments to tell the story of your wedding day with gorgeous imagery.