WEDDING PHOTOGRAPHY PRICING
We know! You want to know how much we charge! Well, it sounds like an easy question but the answer is a little bit more complicated than that.
Why? Well, let me ask you this. Do you think that all weddings are the same? Size, time, location and logistics? The answer is mostly no. So, giving you a price without knowing anything about your wedding is a little bit silly.
From a simple elopement backyard wedding to a multicultural, multi-locations wedding and anything between, we need to know a little bit more about your big day.
So, when you inquire for pricing or a consultation, we have a questionnaire that will help us understand a little bit more about your weddings such as date, locations, size, and needs.
This is why we also want to meet with you. We want to hear about your vision and let you ask us all of the questions you might have. Then, you get to see and feel everything we have to offer. After all, we are talking about the biggest day of your life. So, if memories are important to you, let's do it right.
Now, to give you a rough estimate, our bottom package starts at $2,850. This is not for everybody but it includes a wedding album. However, 75% of our clients spend an average of $4,000, and 10% spend over $5,500.
Now, if you go directly see us at ta Bridal show, we offer better deals.
Please, click on the button below and fill out the form. This will tell us everything we need to know about your wedding to be able to price your event with options that are suitable for your type of event.
WHO WE ARE & WHAT WE DO
We are experienced winning award photographers specialized in weddings with top quality customer services. All our packages include at least one photographer, 1 light assistant, editing of the pictures (colors, exposure, contrast corrected) 8 hours of photography (for weddings in one location under 150 guests and small bridal party) and a beautiful 12x12 40 panel flush-mount wedding album , which is way bigger than most of our competitor is offering. The images are approximately delivered 4 weeks after your wedding day via an online gallery.
We customized everything because each wedding is different. Some are sweet and short and others are extravagant destination weddings that require serious logistic and amazing finalized wall art prints. The amount of real work can be anything from 10h to +36h (Photoshopping, editing, and designing).
We offer packages with:
- 2 or 3 photographers
- Engagement session
- Custom flush mount guest book
- Custom flush mount wedding album
- Custom storage box
- Metal or Canvas wall art
- Digital proof
- Online gallery
- Rehearsal dinner coverage
- Bridal session
- Destination wedding all over the world
- Timeline of the day
We would like to meet with you and hear about your vision in person. Please, set a free consultation and let us show you what difference we can make on your wedding day.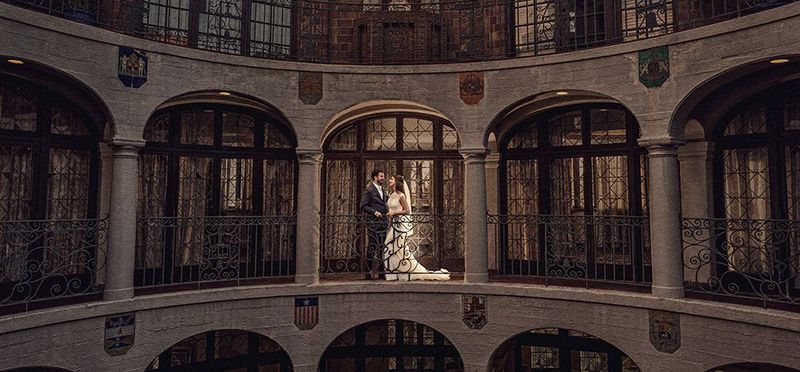 "How much is your wedding photography artistry and experience important to you?"
If the answer is a lot, you are definitely in the right place. There are many photographers in our area but oftentimes the lack of experience limit the artistry and only capture the elements of a wedding that are aesthetically pleasing. Of course, we capture those elements but even more important we shoot knowing we are going to tell the story about a couple's beginning together.
When choosing a wedding photographer in Southern California, you will find out that price will be all over the spectrum and you might find yourself tempted to go with a more affordable option. It may be tempting to hire a friend or someone who displays a few pretty images on their website with a very attractive price. However, There are a few things to keep in mind when searching for your perfect photographer. You definitely want to be careful about hiring a photographer with little experience in shooting weddings because the prices are low. It usually comes with a lack of experience and knowledge in photography which might result in a poor quality outcome of your photography or/ and the missing of important moments or elements.
So, to make sure you are choosing right, here are a few things to keep in mind when looking through your photographer portfolios.
Skill in low light
Every wedding will have a moment where the light is not optimal such as dark light in a church (where flash is not allowed) or a ceremony at night with very moody lighting. One of the important sign of a well-skilled photographer is how they use artificial light off camera. There are many proclaimed "natural light photographer" which is a particular style of photography. But it has its limitation. All the best award wedding photographers in Southern California will tell you that light is light and knowing how to use artificial light when necessary is what makes them better. Many of the photographers that claim to not use off-camera lighting will have trouble photographing many elements about the day the correct way. So, always ask to see wedding photography at night.
Engagement Session and Wedding coverage with stunning imagery
We don't just tell the story of your wedding day. We provide you an experience with our expertise and knowledge. We can create up to 5 Signature Collection images with Nadege Barnes that will become the centerpiece in your home.
WHY IS GOOD WEDDING PHOTOGRAPHY SO EXPENSIVE?
We want to answer a dirty question that every photographer tries to avoid. Well, we understand why you want to know and this is why we make sure that all of our couples and clients understand why we charge what we do and why our prices go up a little bit more every year.
So, this is what exactly goes into being a photographer for your session and your wedding day!
Well, as wedding photographers we do nothing like a 9-5 job where you go in, do your job, you leave and you're done for the night. This is a 24/7 job with maybe a vacation once a year between 2 weddings. We have learned to balance business and life, we get emails and texts all hours of the day and night, and we try to answer any text or email usually within 10-20 minutes (except when we shoot a wedding, session or are in consultation with the client, or at 3 o'clock in the morning)
At French Romance photography, this isn't some side thing that we do for the fun or a part-time job. We are full-time photographers and this comes with a long term experience, in our case, 13 years. It is what pays all our bills.
Your wedding day is probably the most important day of your life other than giving birth to your children and we as photographers are under a lot of pressure to capture this amazing event the way you want it and delivered back to you in a timely manner!
Still, why is wedding photography so expensive?
1. Weddings aren't just another day, like we said earlier, it is one of the most important days of your life! So, we have to be prepared for it because if we screw up we cannot redo it. We, as wedding photographers, have back-ups to our backups just in case. For every wedding, we carry 2 camera bodies, Both Canon R6 together worth over $6,000. Then we carry a bunch of lenses and each of them also cost between $900 to $3,000 a piece. On top of that, we have multiple flashes, camera stands, remote flashes, camera bags, and let's not forget about hiring the second shooter! Just our equipment costs a fortune and half of it still need to get paid off.
2. Most people work an eight hours day, but a wedding, it' a different story. Even if our timeline mentions we are here for 8 hours (if it is not more) it's not just a eight hour day by any means. The night before, we make sure everything is charged, cleaned, working, bag packed, etc. We check on the timeline, pack the guest book and the framed pictures of the engagement session. As soon as we get up in the morning, we double check that we have everything we need and get ready to head out to driving up to 1h30 sometime. Gas is not cheap neither and we must make sure our car is in good condition too because we do not want to miss your wedding because our car broke down. Then we arrive at the venue 30 minutes early to check it out.
From the detail shots to the first look, to the ceremony and I do's, to the family/bridal party and couple, to the DJ intro, to the first dances, to the cake cutting, to the garter and bouquet toss, to the uncle Bob who drank too much and so much more at the reception, we are on our feet none stop and get barely 20 minutes to eat some food at the reception. We are carrying 2 cameras and a bunch of equipment. Trust me, these cameras and lenses are heavy! No need to go to the gym. So, by the time we are done and in the car, our bodies are run out. Still, we have to drive back home. Before we go to bed, we grab all the SD cards and double back them up onto hard drives and edit few of them to put them onto our social media and maybe even text a teaser to our clients! 14h to 18h straight up! And sometime, another one is waiting for us the next day!
3. After the wedding, we are not done. We still need to look at all the pictures, delete the bad, keep the good, edit them, rename the files, spend time in Lightroom and Photoshop to make some of them stunning. And no, we are not done yet. Pictures get delivered and the album order comes along. We have to design the layout, make final adjustments to some of the pictures, then send them to the printers after a few back-and-forths by emails with the client.
4. Shooting a wedding is not only a part of it. There are also bridals shows involved, marketing, social media, taking classes to keep up with technology and a few new marketing tools. The business aspect never stops.
5. This gets forgotten a lot by clients but it is a very important point. We carry LIABILITY INSURANCE. Why? Because life happens the same as a car accident. There are too many photographers out there who do not carry it and if they screw up, you will never get your money back because they can always file bankruptcy to avoid paying you even with a court order. That is right! Think about it! And most wedding venues want you to have vendors who carry one anyway. We carry a $1 MILLION policy to protect us and you.
We are not complaining, we LOVE it, we live for weddings but when someone asks why this is so expensive, well this is why!
But ask yourself, are you willing to risk your wedding day photos on someone with very little experience to no experience at all, maybe someone a bit cheaper? We know we wouldn't. We had ourselves a bad experience and we never got our wedding pictures. So, we know how important it is. We know you want to be proud of them and not to know which ones to hang on the wall! Not to think which one is barely good enough to hang on the wall. Trust me if I tell you that if you only want digital, you will never look at them because it is not convenient like a beautiful album.
We are artists, not just photographers. We are here to serve our couples and would do anything for them! This why wedding photography can be expensive! Choose wisely because you will never get this day back!